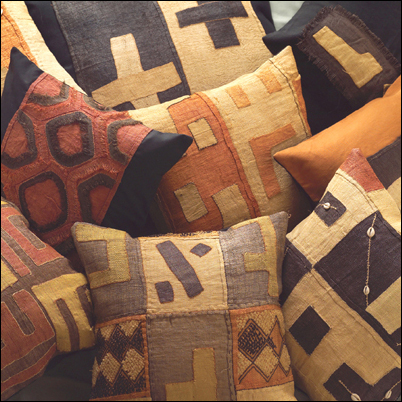 Elgin, IL (PRWEB) November 30, 2006
This holiday season, give a beautiful pillow that tells a story that is comforting as well as comfortable. Haba Na Haba's handmade pillows are made by small Tanzanian, women-owned manufacturers who teach trade skills and pay fair wages to at-risk young adults who have been orphaned by the AIDS pandemic. Featured products include silkscreened and embroidered Tanzanian cotton pillows featuring stylized East African designs and animal patterns. The newest products are pillows made from traditional Kuba cloth that is handwoven in war-torn Congo and include beautiful abstract designs. These featured products are available at http://www.habanahaba.com. Online prices of the pillows start at $ 27.95.
Founded by Grace Ndunguru, a native of Tanzania, and American Beth Peterson, Haba Na Haba was created as a way to help Tanzanian teens who often find themselves homeless and without hope for school, jobs or training. Haba Na Haba supports companies that offer training and jobs to these young adults in an effort to break the poverty cycle and provide a future for orphaned teens of whom would otherwise have little hope for a prosperous future. To qualify as a trading partner, these Tanzanian companies must train a trade skill, pay fair wages and not hire children.
"By providing skill training, health education, and an opportunity to sell their goods, we hope to help these young adults learn a trade that will empower them to support themselves, break the poverty cycle and lead healthy and productive lives," said Peterson.
Haba Na Haba will continually feature on their website new types and styles of Tanzanian products from like-minded manufacturers. In addition to supporting existing businesses with this business model, Haba Na Haba also directly trains young adults in trade and business skills and donates part of its profits to support other AIDS orphan and AIDS health programs in Tanzania.
About Haba Na Haba
Haba na haba, hujaza kibaba is a Swahili proverb that translates to "Little by little, fills the pot." Haba Na Haba's mission is to help empower at-risk young AIDS orphans, one by one, to learn trade skills in hopes of becoming self-supporting and lead healthy, productive and happy lives.
Contact info: http://www.habanahaba.com or phone Beth Peterson at 847-931-9375 or 888-439-9375.
####
Find More Swahili Press Releases