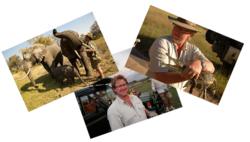 JOHANNESBURG, SOUTH AFRICA (PRWEB) August 20, 2012
Cheetah in the Dash, Galago in the High Jump, Gorilla in the Clean and Jerk, Flea in the Long Jump and Dung Beetle in the Snatch Go for the Gold!
Spending most of his life in the wild, Michael Lorentz has developed a photographic eye for fantastic displays of speed, agility and strength. In his world, the Safari Olympics happen all the time with a broad range of international competitors from the animal kingdom. They may not have the glamor of the London Olympics, but these contests are high on drama as the gold medalist generally gets to eat the silver medalist.
Ive been in the bush throughout the Olympics, so I barely know whos won what, said Lorentz, whose work has been featured at the Smithsonian National Museum of Natural History in Washington, DC. Im sorry to have missed it, but my consolation is that I have a ringside seat for competitions of a different kind. The contests we witness on safari are not purely physical; cooperation, guile and sometimes selflessness have their counterparts in the bush as in the Olympics. But the gold medal in nature usually confers nothing more than another day of life and the chance to pass on your genes.
The winning qualities on display at the Olympics have evolved as humans have competed with each other (and other species) for survival. Michael has watched these struggles play out daily in the wild his whole life and its one of the most fascinating parts of what he does for a living. So, in the spirit of London 2012, and the Olympic motto of faster, higher, stronger, hes picked the following team of Animal Olympic Medalists who have proven to be the best of the best.